Igniting a passion for learning is a science in itself
High school and middle school science teachers introduce students to the study of the structure and operation of the natural world through observation and experiment.
Piece of cake, right? Not exactly.
Great science teachers are naturally curious individuals who have a passionate interest in how the world works. They like to ask questions and puzzle over natural processes. They are interested in what makes things tick and how they came to be. The most powerful science teachers, though, are those who connect with students in ways that excite and inspire. This is the human part—which is often overlooked in the learning process.
While preparing you with the knowledge and skills you'll need to become a science teacher, we also take care to help you understand effective strategies for connecting with students in ways that allow them to dive deeper into complex ideas, be nimble and flexible, and understand science in a variety of compelling ways.
In the UW-Madison Master of Science in Curriculum & Instruction: Secondary Education program, we'll examine this closely in an environment where research, collaboration, presentation, and reflection are emphasized.
We believe in a teacher's ability to expand science education beyond the four walls of the classroom into every facet of the students' lives.
If you have questions about the field of secondary science education or about the science preparation within the program, please feel free to reach out to the SED Science Coordinator,  Dr Mark Olson at mark.olson@wisc.edu.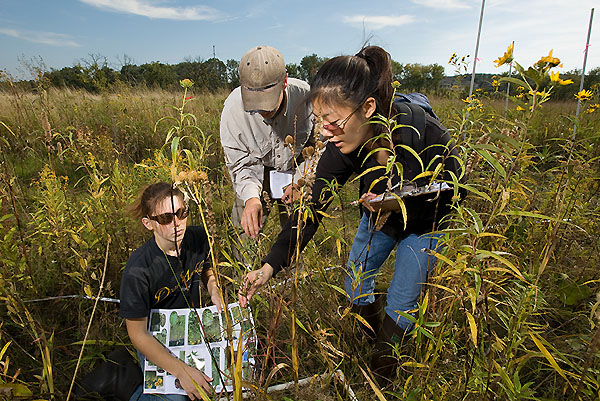 Science IS ACCEPTING APPLICATIONS FOR THE SUMMER 2023 COHORT (starts in June, 2023)
PREREQUISITES
Relevant undergraduate degree
Coursework or experience that spans the necessary content domains
Passing an approved content examination
Prerequisites
Undergraduate Degree
Applicants need to have (or have completed by June) a Bachelor of Science or Bachelor of Arts with a major in one or more of the following areas:
Biology or other Life Science-related major
Environmental Science
Geology or other Geoscience
Chemistry
Physics
Engineering
or some other Natural Science or Science-related degree
If you do not have one of these degrees, and believe you have a special case for consideration, including significant professional experience, or comparable university courses, you may send an email to Dr Mark Olson explaining your situation.
Content Domains
Prior to admission, all applicants must demonstrate competency in the following general areas through coursework or other experiences.
Structure and Properties of Matter
Chemical Reactions
Forces and Interactions
Energy
Waves and Electromagnetic Radiation
Admissions Criteria
The admissions process of the Master of Science in Curriculum & Instruction: Secondary Education is highly competitive. The program will select students in each subject area for admission based on the following:
Is the applicant well-qualified academically? Does the academic background reflect the needs of the profession?
Is the applicant thoughtful and reflective about the meaning of teaching? Are the applicant's motivations for entering the profession worthwhile and do they reflect a commitment to professional improvement?
Has the applicant shown the ability to work effectively with young people, especially those different in important ways from the applicant?
Does the applicant show a genuine commitment to working with all children, not just the privileged or highly motivated? Does the applicant provide evidence of working with adolescents?
Is the applicant capable of working effectively with other professionals in the school, parents, caregivers, and members of the community outside of school?
Does the applicant have work experience that may add to their ability to assist students in building their own knowledge of the subject?
Certification Areas
Wisconsin science teaching certification is available with the Secondary Science degree program.  The certification is correlated to DPI License 2600 license, Grades 4-12. This license certifies a teacher to teach any science course between grades 4 and 12, including all honors, AP, IB, or stand-alone courses. More specific details can be found on the Wisconsin Department of Public Instruction Licensure Program Content Guidelines website.
If you need additional coursework for any of the certifications listed below, you are free to take courses online or in person at any institution (a community college, tech school, or another campus in or out of state). One option to consider is the online Science Seminars for Teachers offered by the American Museum of Natural History (check out their offerings here). These do not need to be taken for "graduate credit."
One other option for content for a certification may be to complete the Praxis II: Subject Assessments/Specialty Area Tests through the Educational Testing Service (ETS)
Typical science course topics include:
Biology/Life Science
Evolution and Genetics
Cell and Molecular Biology
Microbiology
Organismal Biology
Ecology
Physiology
Chemistry
Introductory Chemistry Sequence
Inorganic Chemistry
Organic Chemistry
Analytical Chemistry
Biochemistry
Earth and Space Science
Geology and Geophysics
Astronomy
Weather/Meteorology and Climate
Environmental Science
Interaction between living and non-living elements of the natural environment
Energy and its transformations in physical and biological systems
Interactions between people and the environment in historical and philosophical perspective
Principles of resource management including renewable and non-renewable resources
Impact of technology on the environment
Ecological, social, economic, and political implications of environmental issues
Physics
Introductory Physics Sequence
Mechanics
Electricity and Magnetism
Nuclear Physics
Modern Physics