The UW-Madison Master of Science in Curriculum & Instruction: Secondary Education program with a dual certification in English as a Second Language (ESL) prepares students with the skills and knowledge needed to become social studies teachers and to transform the learning experience in the classroom.
The subjects that comprise social studies—history, economics, geography, political science, sociology, and psychology—are rich, interrelated disciplines, each critical to the background of thoughtful citizens.
We believe in an integrative approach to teaching social studies—addressing the totality of human experience over time and space, connecting with the past, linked to the present, and looking ahead to the future.
The best social studies teachers develop awareness of their own values and how those values influence their teaching. They assess their teaching from multiple perspectives and, when appropriate, adjust it to achieve a better balance.
If you have questions about the field of secondary education social studies, or about content preparation within the program, please feel free to reach out to the SED Soc St Coordinator, Tom Owenby owenby@wisc.edu.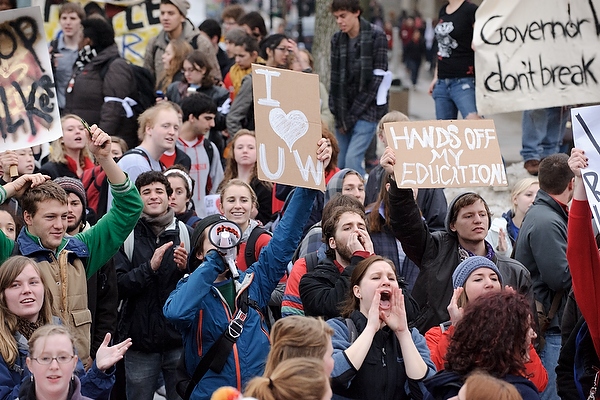 Social Studies will begin accepting applications in July.
Starting in July 2021, applications for next year's cohort will open. Applications submitted before Dec 1, 2021 will be reviewed as a priority for the cohort to start in June 2022.
Prerequisites
Relevant undergraduate degree
Coursework or experience that spans the necessary content domains
Passing an approved content examination*
*   The social studies certification details are in flux at the moment.  Students may need to complete the Praxis II: Subject Assessments/Specialty Area Tests through the Educational Testing Service (ETS)—Social Studies Content Knowledge Exam # 5081 with a passing score of 153 or above. If this  exam is required it may be taken after you have been admitted into the program, but prior to the endorsement of your certification.  More information will be available in January, 2019.
Undergraduate Degree
Applicants need to have (or have completed by June) a Bachelor of Science or Bachelor of Arts with a major in one or more of the following areas:
History
Political Science
Geography
Sociology
Psychology
Philosophy
Economics
or some other Social Science-related degree
If you do not have one of these degrees, and believe you have a special case for consideration, including significant professional experience or comparable university courses, you may send an email to  Professor Tom Owenby owenby@wisc.edu explaining your situation.
Content Domains
Prior to admission, all applicants must demonstrate competency in one or more of the following areas through coursework or other experiences. For more information, see below under Certification Areas.
Admissions Criteria
The admissions process of the Master of Science in Curriculum & Instruction: Secondary Education is highly competitive. The program will select students in each subject area for admission based on the following:
Is the applicant well-qualified academically? Does the academic background reflect the needs of the profession?
Is the applicant thoughtful and reflective about the meaning of teaching? Are the applicant's motivations for entering the profession worthwhile and do they reflect a commitment to professional improvement?
Has the applicant shown the ability to work effectively with young people, especially those different in important ways from the applicant?
Does the applicant show a genuine commitment to working with all children, not just the privileged or highly motivated? Does the applicant provide evidence of working with adolescents?
Is the applicant capable of working effectively with other professionals in the school, parents, caregivers, and members of the community outside of school?
Does the applicant have work experience that may add to their ability to assist students in building their own knowledge of the subject?
Certification Areas
Wisconsin teaching certifications are available in the subject areas listed below. Each certification enables a teacher to teach secondary-level courses (grades 6-12) in that particular domain. Certification in social studies requires a major or minor in one of the social studies areas. Additional certifications only require that one has met the standards listed for each subject area for which the student wishes certification.
Please review this document for a detailed list of content knowledge required to qualify for certification in one of the following content areas.
Broad Field Social Studies
If you have a degree in at least one certification area and fulfill the content requirements for three or more additional certification areas, you would qualify for a Broad Field Social Studies certification.
Economics
Certification in economics enables one to teach economics courses at the high school level (grades 9-12), including advanced and AP courses. The required content background includes knowledge in the following areas:
Major ideas, schools of thought, and concepts of economics as a discipline
Microeconomics
Macroeconomics
American economic systems
International economics
Money and banking
Research methodologies of economics
Geography
Certification in geography enables one to teach geography courses at the high school level (grades 9-12), including advanced and AP courses. The required content background includes knowledge of the following:
Physical geography
Social geography
Natural environment / ecology
Historical geography
Map skills
Research methods of geography
History
Certification in history enables one to teach history courses at the high school level (grades 9-12), including advanced and AP courses. The required content background includes knowledge in the following areas and an understanding of how they relate to current issues, situations, and events in the world:
Major historical ideas and concepts, such as economic determinism, nationalism, and imperialism
US history; Non-Western, Western and world history; Ancient History
Historical research methods
Political Science
Certification in this area enables one to teach political science and government courses at the high school level (grades 9-12), including advanced and AP courses. The required content background includes knowledge in the following areas:
Major principles and concepts of the discipline such as political systems and their legitimacy, the nature of law, and the roles of citizens
Forms and structures of political systems
International politics
American politics
Political ideologies
Psychology*
Certification in this area enables one to teach psychology courses at the high school level (grades 9-12), including advanced and AP courses. The required content background includes knowledge in the following areas:
Social psychology
Personal psychology
Human behavior and development
Research methods of psychology
*Must be paired with another certification area
Sociology
Certification in sociology enables one to teach sociology courses at the high school level (grades 9-12), including advanced and AP courses. The required content background includes knowledge in the following areas:
Major ideas, schools of thought, and concepts of sociology such as intergroup relations and functions of social class
Applications of sociology to understanding contemporary societies including how race, gender, age, and other human factors influence social interactions and social conditions
Applications of sociology to understanding contemporary societies including how institutions such as religion, education, and entertainment influence social conditions
Research methods of sociology