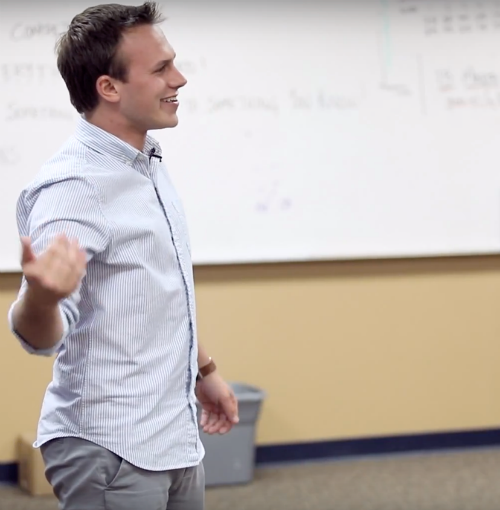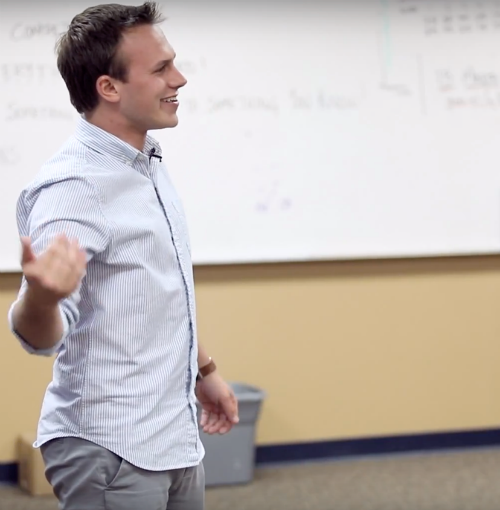 Jesse Van Divier knew he wanted to become a teacher when he started his undergraduate degree in history. After graduation, he searched for a master's degree program that offered a wide variety of education courses and found the University of Wisconsin–Madison Master of Science in Curriculum and Instruction: Secondary Education and ESL Certification program.
"For me, it made the most sense to find a program that would prepare me to become a teacher while also taking care of my master's degree before stepping into the classroom full time," Van Divier said.
The secondary education and ESL certification master's program is for people looking to move into the teaching profession or for recent undergraduates starting their first career. Previous education courses are not required, but experience working with youth is preferred.
In this dual-certification program, students select one subject area in which to specialize: English, social studies, science, or mathematics. In just two summers and one academic year, they are certified to teach in their chosen subject area at the high school or middle school level and to teach in the high-demand field of English as a Second Language (ESL).
Flexible and customized
Van Divier said the program was demanding, but convenient and accommodating.
"This was an incredible opportunity for someone like me," he said. "I knew I wanted to be a teacher, and I wanted to get in the classroom as soon as possible while also being as prepared as possible."
Van Divier also appreciated the ability to choose an area of focus—in his case, social studies—as well as get certified in teaching ESL.
"Having ESL certification opened up so many doors and led to countless interviews. It really set me apart from other teacher candidates."
Top-ranked school in the country
U.S. News & World Report consistently ranks UW–Madison's School of Education among the top three public institutions in its annual graduate school rankings. The high quality of the program was important to Van Divier.
"I wanted to study at a place where so many of the researchers and writers who I read about as an undergraduate would be my instructors," he said. "I also knew that such a prestigious program would attract like-minded students who want to push themselves to excel in their careers."
Van Divier found instructors highly dedicated to the field of education and to the success of their students.
"They didn't just tell us how to teach, they really showed that process and all the difficulties that come with it," he said. "I will never forget the thoughtful encouragement, critique, and responses from my professors. Seeing their dedication in action made me want to be that sort of teacher, too."
Confidence to step into the classroom
Van Divier said what he learned in the program gave him the confidence he needed to step into his first classroom and shine.
"I'm extremely grateful this program provided us with so much time in the classroom and so many opportunities to reflect on our experiences with peers," he said. "I am confident in my ability to plan, connect with students, and collaborate with teachers, but I am also confident in my ability to take risks and try new things."
Van Divier said the program covered what students need to know to dive into the profession and respond to students' changing needs.
"Anyone trying to become a secondary teacher should consider this program. I do not know of any other that is making such an intense effort toward perfecting the pre-teacher experience for students in every way possible."
Continue discovering
Explore the Master of Science in Curriculum and Instruction: Secondary Education and ESL Certification, including program timelines, coursework, how to apply, and more.