All candidates for the Secondary Content/ESL Teacher Certification Program must demonstrate the following criteria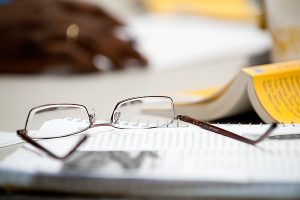 Relevant undergraduate degree
Coursework or experience that spans the necessary content domains
3.0 GPA or above, or passing an approved content examination
1) Undergraduate Degree
Applicants need to have (or have completed by June) a bachelor's degree from a regionally accredited U.S. institution or a comparable degree from an international institution with a major or a minor in one or more of an area associated with the certification area.
Non-US Graduates: For specific information about comparable degrees in your country, and which academic documents are required, refer to this link
2) Content Domains
Prior to admission applicants must demonstrate competency in the content domains associated with the standards in their content area of choice.  This may be demonstrated through coursework or significant life experiences.
3) GPA and required exams
Applicants must demonstrate academic and content competency through coursework, examination or a portfolio of evidence.
For admission to Graduate School, a minimum undergraduate grade-point average (GPA) of 3.00 on the equivalent of the last 60 semester hours (approximately two years of work) or a master's degree with a minimum cumulative GPA of 3.00 is required.

If this benchmark is not met, the program may request special approval for a candidates
It may be necessary for the candidate to take a standardized test such as the GRE or ACT or SAT.
To be eligible for certification, candidates must have a GPA of 3.0 or above within their content area.

If this benchmark is not met,

the student would need to pass a content exam, or
prepare a portfolio of evidence showing their competency in the content domains
GPA Calculator- click here to access web tool from UW cross-campus advising
English Proficiency
Every applicant whose native language is not English, or whose undergraduate instruction was not in English, must provide an English proficiency test score. TOEFL scores must be submitted electronically via ETS. IELTS scores can be submitted electronically or by paper.  Our office address is UW-Madison Graduate School, Office of Admissions, 232 Bascom Hall, 500 Lincoln Drive, Madison, WI 53706.  Your score will not be accepted if it is more than two years old from the start of your admission term. Country of citizenship does not exempt applicants from this requirement. The language of instruction at the college or university level and how recent the language instruction was taken are the determining factors in meeting this requirement.
Showing adequate instructional verbal skills are also required for non-native English speakers.  Passing a verbal interview with the secondary education ESL team will also be required.

Applicants may be exempt if:
English is the exclusive language of instruction at the undergraduate institution; or
you have earned a degree from a regionally accredited U.S. college or university not more than 5 years prior to the anticipated semester of enrollment; or
you have completed at least two full-time semesters of graded coursework, exclusive of ESL courses, in a U.S. college or university, or at an institution outside the U.S. where English is the exclusive language of instruction. Completion of graded coursework cannot be more than five years prior to the anticipated semester of enrollment.
An exemption is contingent on the Secondary Program's discretion
Please use this link to access a list for specific information about English proficiency requirements from various countries:  UW Graduate School Requirements page